On 28.11.2017, representatives of several municipal utilities and supply companies met for the second time within the framework of the so-called LoRa Interest Groupin order to exchange information on all issues concerning the LoRaWAN. The host of the all-day event was Stadtwerke München GmbH.
The first meeting in summer at the SmartMakers in Karlsruhe focused on the basics of LoRaWAN technology and possible business models with LPWAN. These contents were completed by a tour of the gateways installed in the Grötzingen district of Karlsruhe by the Karlsruhe public utility company.
This time, the focus was on the concrete exchange of experience on existing LoRaWAN installations of the participating institutions. In particular, Stadtwerke München, Technische Werke Ludwigshafen and WiTCOM from Wiesbaden presented their current setup, expansion and usage strategies, use cases and informative test series. All three utilities now operate their own LoRaWAN networks and can draw on a large pool of experience.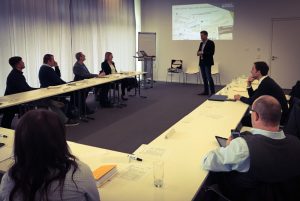 The SmartMakers take on an informing, moderating and organising role in this round. In this context, Sebastian Stute and Reimo Schaupp reported on the topics range of LoRaWAN, ModBus adapter and a Wireless M-Bus bridge for LoRaWAN installations, scalability of a LoRaWAN and the most important innovations of the update of the LoRaWAN standard to version 1.1.
The most difficult thing about such rounds is finding the right date. Therefore, planning for the next event was initiated directly in the final item of the programme.