Connect all the things in your operations. IoT solutions with
low-power technology

make this possible
What is IoT Remote Monitoring?
Monitor, control and optimize business processes with easy-to-use IoT sensor solutions
Capture all important operational or consumption data with low-cost IoT sensor technology and detect problems before they arise. Low power IoT devices do not require a network cable or power connection. Battery-powered sensor technology can collect and transmit operational data over many years and long distances. From deep basements or across large factory sites.
How does
IoT Remote Monitoring work?
Functions of thingsHub Remote Monitoring
Everything in view with one click
With the modern web interface of thingsHub Remote Monitoring, you always have an overview of all resources in your area of responsibility. At your workstation, on the road on your tablet or via your mobile phone. Know what's going on at all times without having to be on site.
Full control in your own pool system with the networked silo in the warehouse, during transport and on the construction site.
The networked silos regularly transmit their fill levels, allowing consumption to be viewed and forecast at any time, and through IoT tracking data, know at all times which silos have been in use, where, how often and for how long.
Operating Company Industrial Park Willstätt
Digitisation of 95% of pumps in hard-to-reach and dangerous places on the premises
Staff safety is increased by transmitting conditions through IoT sensor technology. Data from equipment in hard-to-reach and dangerous locations is available digitally on a daily basis, enabling data analysis and new customer services.
HEVERT medicinal products
75% more transparency in the supply chain by monitoring the temperature in transit
Quality assurance can receive alarms in real time due to the smart temperature monitoring and initiate appropriate measures if tolerances are exceeded.
Deepen your knowledge of IoT Remote Monitoring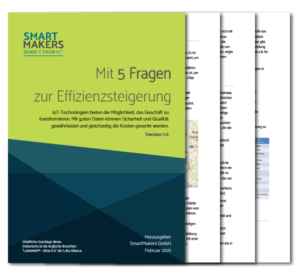 With 5 questions to increase efficiency
IoT technologies offer the opportunity to transform business. To trigger improvements, you need to answer the essential 5 questions. Good data can ensure security and quality while reducing costs.
Possible applications of IoT in the industrial environment
Learn about the greatest potentials and use cases, as well as the risks in the digitalisation of processes. We will be talking to the renowned expert on the Industrial Internet of Things (IIoT) Prof. Dr. Martin Stube, Ostfalia University of Applied Sciences.
Arrange a personal consultation appointment with our experts. We will be happy to advise you on your personal area of application.