How LoRaWAN-enabled multi-technology location and tracking leads to greater efficiency in the use of multi-way transport systems
---
.
.
---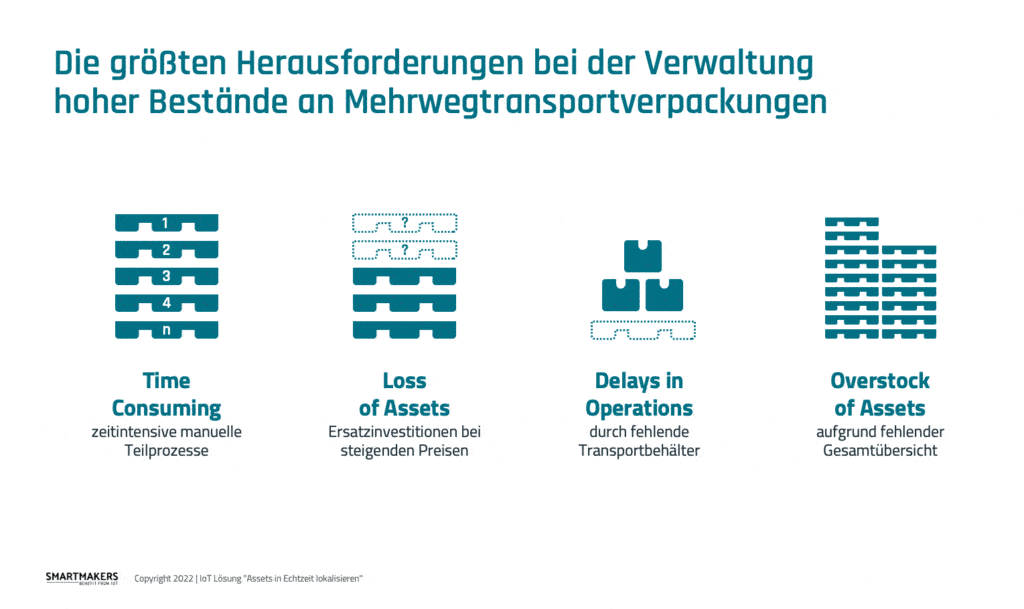 .
Summary
Many companies and industries use special reusable transport packaging such as containers, cages, boxes, tanks, crates, bottles, load carriers, pallets, mesh boxes and roll containers to transport their goods, which are usually valuable and reusable. The inability to track and trace returnable goods can have a financial impact on a company:
Not knowing where returnable transport packaging is or when stakeholders will return it creates a need for surplus stock to ensure continuity of operations.
Time can be lost searching for containers or roll cages that have been inadequately stored or not collected by stakeholders, which can delay or interrupt the fulfilment process.
Money can be lost as inefficient life cycle and process monitoring of dangerous goods or food leads to errors or interruptions in cleaning and control processes.
Paper-based processes mean duplicate work to enter information collected by operators into the ERP system, which reduces back-office productivity.
SmartMakers, Actility, Zozio and Nomosense use Abeeway GPS trackers and LPWAN connectivity to provide their customers with efficient tracking systems for all types of returnable transport systems.
.
---
Introduction: How multi-technologies indoor, outdoor, low-power, IoT geolocation, has revolutionised the tracking of reusable goods
Abeeway & Actility deliver precise location that works both indoors and outdoors for industrial applications such as warehouse management, tracking goods between buildings, supply chain management and personal security. An Asset Journey combines multiple technologies to provide the most accurate real-time location: WiFi or BLE indoors, GPS or low-power GPS outdoors, or even LoRa TDoA technology in large rural outdoor areas where accurate location is not required. Meanwhile, a licence-free, low-cost and low-power private LoRaWAN network can easily transmit location data from any indoor or outdoor location.
---
Lecture 1: How a window manufacturer achieved full transparency on the utilisation of 15 % of its load carriers in just one week
Reusable transport systems must be provided on time and in good condition. For cost reasons, their number in the cycle must be kept low, but it must also not be too low to avoid disruptions in the supply chain. An efficient organisation must therefore ensure visibility of inventory, identification of causes of misuse and shrinkage, maintenance and timely provision. Learn how to simplify the management of reusable transport packaging with IoT through a real-life use case from a window manufacturer.
---
Presentation 2: How cosmetic brands track perfume tanks and optimise operations using IoT and LoRaWAN
In a context where the cosmetics market is booming worldwide and the need for more efficient management of resources is increasing, Zozio is implementing a unique tracking and tracing solution aimed at optimising the flow of assets and reducing costs. With Abeeway & Actility, Zozio has conducted a successful deployment with one of France's largest luxury brands. The brand, whose name will be announced at a later stage of the project, uses the integrated Zozio Abeeway solution to track high-end perfume tanks in its production facilities. Staff now have immediate access to data on the status, location and history of tank movements from the ergonomic platform.
---
Lecture 3: How a major truck manufacturer tracks the contents of boxes to optimise logistics between warehouses
Truck building is a complex process that requires the transport of parts from different warehouses of our customer and the warehouse of its own supplier. NomoSense's solution helps our customer optimise logistics between warehouses, simplify inventory management or prevent equipment loss. Once the sensors are installed on the boxes, our platform allows our client to visualise the position and time of presence of each box at a national level. It can also calculate statistics to know the timing of a logistical rotation and detect any shock to know the responsibilities of each actor of the global industrial process.
Since a few weeks, we have integrated Actility's ThingPark Exchange solution into our platform to propose LoRa roaming. This allows us to improve asset tracking solutions with better precision indoors thanks to public-private LoRa roaming, or to connect services abroad thanks to public-public LoRa roaming.
---
---