Online orders have become an indispensable part of our everyday lives. The goods ordered with just a few clicks are sometimes shipped around the globe and arrive on our own doorstep a short time later. For reasons of time and cost, the logistical processes in the background must be made increasingly efficient. The Internet of Things (IoT) is making a significant contribution to this growth with cutting-edge technologies, enabling smart logistics and customer requirements to always be one step ahead.
This article shows why the Internet of Things is essential for future competitiveness in logistics.
Real-time tracking and visibility through IoT
Transport processes can be optimized through the transparency of GPS data. In addition to cost savings, there are further advantages for all parties involved. The entire transport process becomes more calculable and can run more smoothly. In particular, the calculation of the arrival time is calculated more precisely.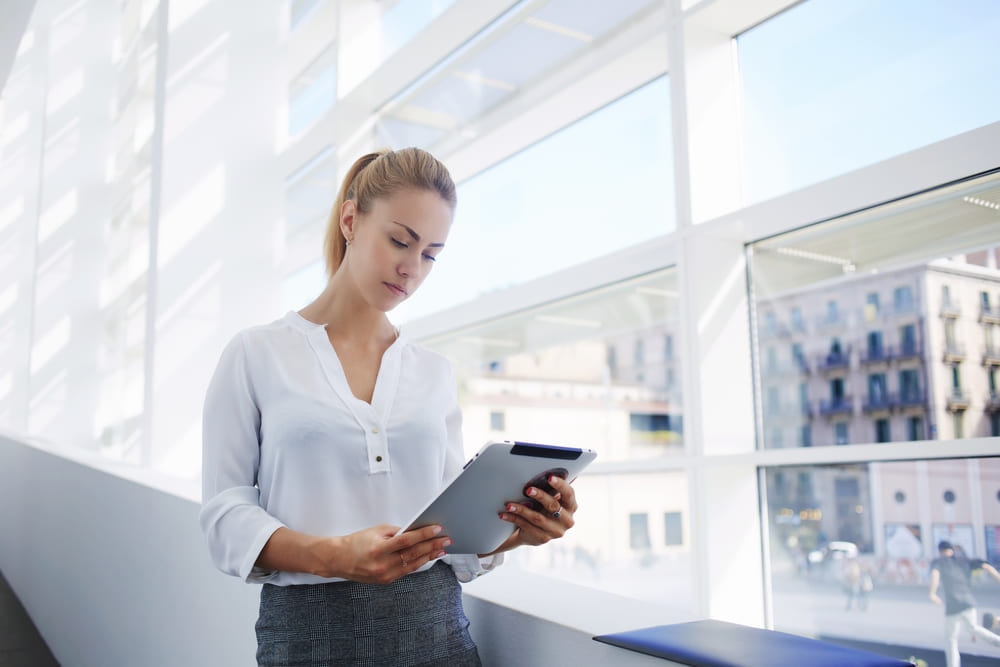 Personnel planning is also simplified, so that more capacity is required for a larger delivery. Or the vehicle driver already knows before arrival which loading ramp he can approach. Especially for just-in-time deliveries, it is hard to imagine logistics without this form of intelligent logistics. Real-time transmission of the location and status of the delivery is absolutely essential for a smooth process. In addition, intelligent logistics allows proactive action to be taken.
Fleet management and -optimization through intelligent logistics systems
It is not only deliveries and goods that can be optimized by the Internet of Things and smart logistics. So can the vehicle fleet. Outdated Excel spreadsheets or even paper spreadsheets are inefficient and confusing. Intelligent logistics solutions save time and costs by automating processes and adding additional capabilities. In particular, live transmission of vehicle status and whereabouts ensure much more precise planning and increase the utilization of the vehicle fleet. Predictive maintenance of the vehicles reduces unexpected breakdowns in the process. At the same time, the new database enables better handling of unplanned situations. 
Warehouse automation and efficiency through smart logistics applications
The Internet of Things and intelligent logistics applications are revolutionizing warehousing. Immense cost savings and efficiency increases in the same space are becoming possible. Today, an intelligent warehouse automatically scans incoming goods. The optimal storage location is automatically digitized and, depending on the equipment, even automatically transported to the selected storage location without the need for personnel. At the same time, the goods are linked to the storage location, providing complete transparency over the entire warehouse at all times. Storage and retrieval is optimized and completely autonomous.
The IoT technology used in Intralogistics 4.0 provides real-time tracking data and enables order picking.
By using intelligent logistics, a warehouse can use the available space more efficiently, accelerate and automate processes. At the same time, the planning effort is almost completely eliminated and efficiency is significantly increased.
More security and theft protection through IoT
Smart logistics solutions and IoT are able to detect possible malfunctions and safety risks at an early stage via a wide range of sensors. For example, sensors are used on rails to monitor the condition of railroad wheels and warn if there is a risk of derailment. This can reduce significant safety and cost risks.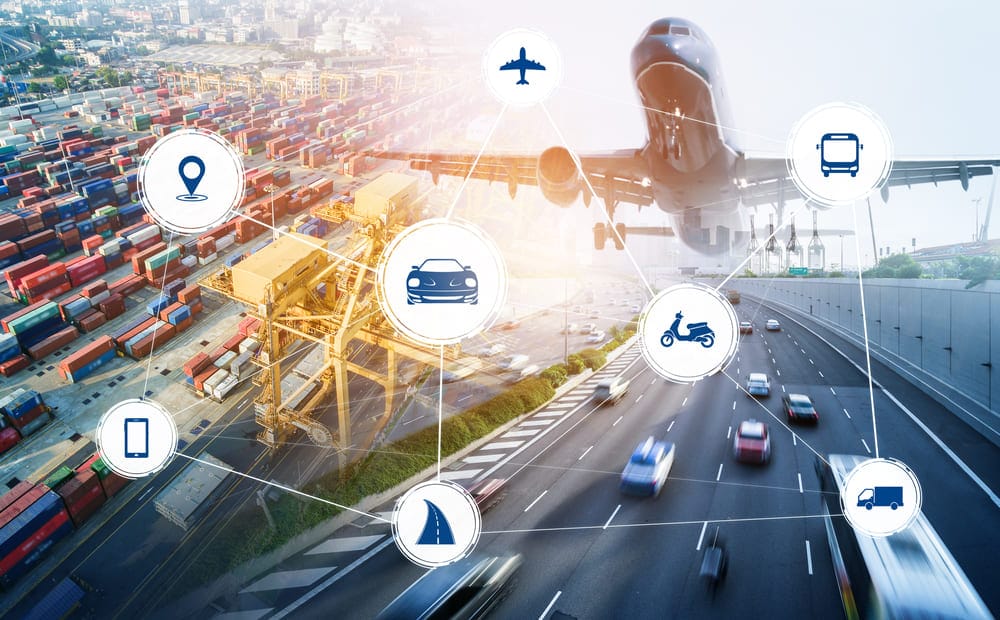 Intelligent logistics solutions can also help against theft. This works, for example, by monitoring warehouses with camera systems or sensors on truck doors. In case of danger, the police can be alerted automatically or the stolen goods can be tracked afterwards.
In this way, smart logistics can detect and counteract security risks. Particularly in the case of theft (attempts), there is quickly danger for the goods or the personnel. In 2016, cargo theft caused damage of 2.2 billion euros in Germany. Investments in smart logistics applications could reduce this figure in the future and at least act as a deterrent to potential offenders. 
Dynamic supply chain management through smart logistics
The Internet of Things is also capable of optimizing supply chains. In particular, the transparency created by the data obtained can increase efficiency and reduce costs. By tracking and monitoring transports and shipments, for example, it is possible to react more quickly to delivery delays or even impending production stoppages. 
Furthermore, new business areas can be opened up, e.g. through additional services, as intelligent logistics can act much more dynamically than conventional, mostly static processes.
Environmental monitoring and regulatory compliance through IoT
Different environmental regulations apply depending on the location. IoT can ensure that existing resources are better used to comply with regulations without major investment. At the same time, smart applications facilitate its monitoring.
For example, farmers can use smart irrigation systems to monitor the environment using IoT sensors. In this way, specific areas of particular need can be identified. This allows the automated irrigation system to water dynamically, which significantly reduces water waste and, at the same time, environmental impact. 
Innovations of the last mile through logistics 4.0
The last mile is often a major problem for logistics, as goods have to be distributed all the way to each end customer, which significantly increases the cost per ton. One example of Logistics 4.0 is a startup called Zipline. The company uses small, electric flying drones and airplanes to deliver goods directly to any location. By using IoT systems and largely automated processes, delivery times of often less than 30 minutes within a 60km radius are achieved.
Intermodal transport optimization through smart logistics
Often, deliveries are transported by several means of transport, e.g. for cost reasons or due to geographical circumstances. The optimal linking of multiple links in the transport chain requires high efficiency and precision. Through IoT, these conditions can be enabled by location and other necessary real-time data.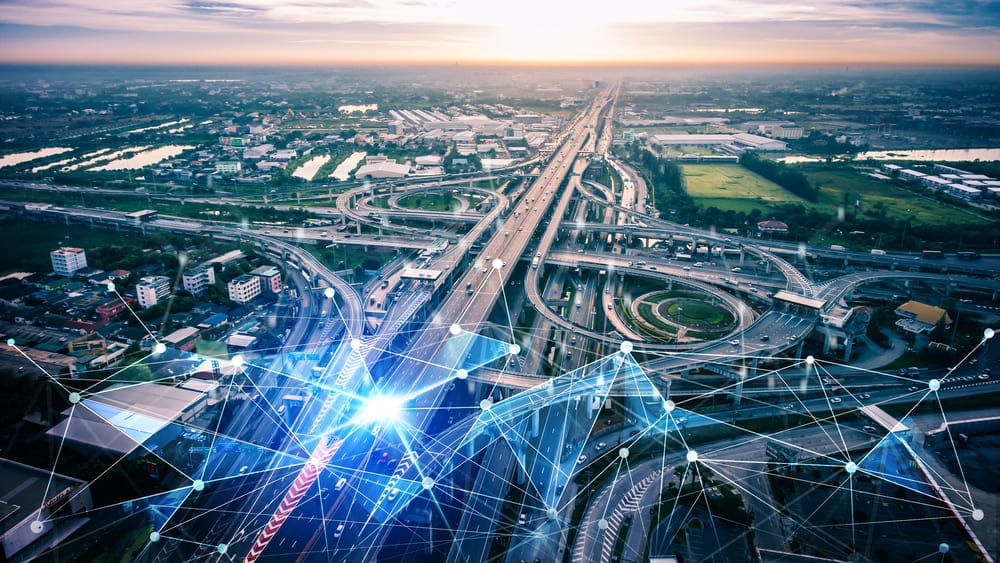 Customization and personalization of logistics services through intelligent logistics applications
Changing or personalizing logistics processes spontaneously required a great deal of planning. Today, this can be done with a few clicks at most. Smart logistics applications make it possible to adjust deliveries at any time if necessary, e.g., if a truck makes an unplanned stopover. Personalized requests can also be calculated and implemented efficiently and cost-effectively. Customer satisfaction in particular increases immensely as a result of such dynamic adaptability.
Integration with other new technologies
Once a company starts integrating smart logistics applications, IoT, etc. into its processes, the easier it becomes to implement other technologies. Especially due to the increasing acceptance of IoT applications over time, new technologies are designed to be as compatible as possible. If necessary, interfaces that still have to be implemented manually today will sooner or later be offered by the software provider out of the box.
Smart logistics: IoT increases efficiency and competitiveness
The highly complex processes of the logistics industry benefit greatly from the use of the Internet of Things. In particular, real-time data and adaptability enable more efficient and effective intelligent logistics processes. A logistics company that forgoes these benefits is no longer capable of growth and competitiveness above a certain size already today or in the near future at the latest. Start integrating IoT into your logistics processes now.