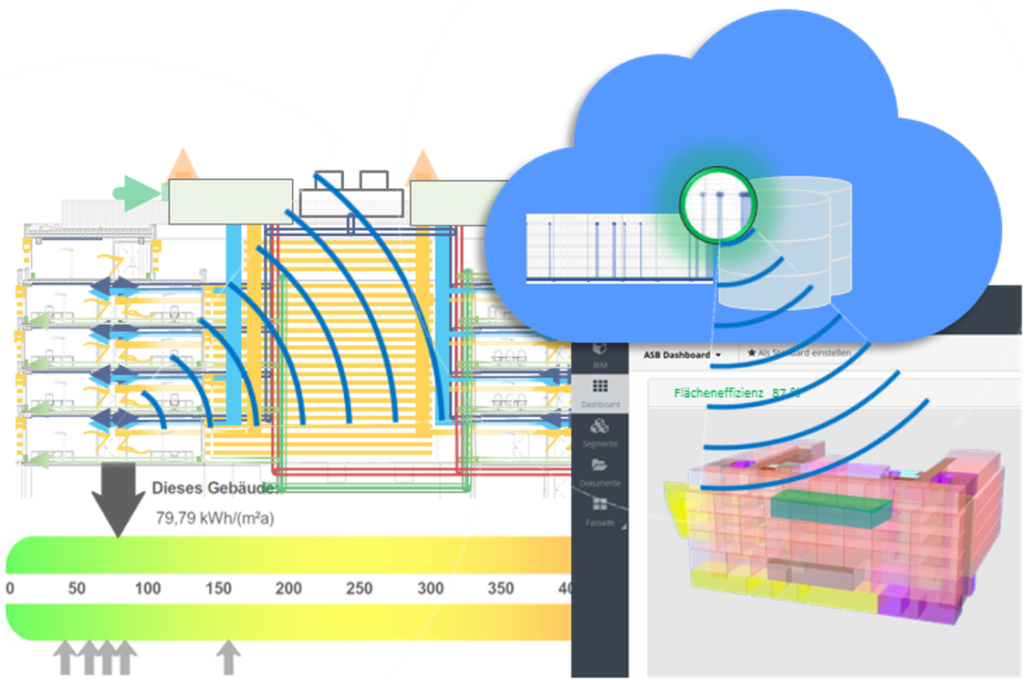 As part of the 7th Energy Research Framework Programme, the Federal Ministry for Economic Affairs and Energy (BMWi) is providing €2.74 million for the three-year research and development project "BIMpact".
On 1 August 2021 the Ed. Züblin AG (coordinator), the Institute for Building Energetics, Thermotechnology and Energy Storage (IGTE) of the University of Stuttgart, and the technology companies SmartMakers GmbH and aedifion GmbH started the joint project. The aim is to optimise the energy efficiency of a building throughout its entire life cycle by combining IoT communication, cloud-based building control and Building Information Modelling(BIM) methods for the first time.
A basic prerequisite for this is the development of a process for creating building information models in which the information required for subsequent plant monitoring and operation is consistently available in the BIM model. All building functions are already represented in the BIM model in the planning and construction phases, where they can be edited and transferred. All installed components with their technical data relevant for building operation are connected and located.
In parallel, a long-term IoT communication via a building-wide LoRaWAN network with minimal hardware use, a cloud-based building control system and a processing of the operating and meta data with the help of innovative AI algorithms are to be developed. Security and stability, as well as the controllability of the system by the end users, are the main focus. A demonstrator will show the functionality and usability of the entire system.
The combination of innovative building technologies and their implementation in a new overall process will result in a significant saving of resources, with the savings extending to the factors of energy, time and use of raw materials. The developed wireless and cloud-based building automation will not only be applicable to new buildings, but should also enable easy, cost-effective retrofitting of existing properties and in this way support the European Union's Long-Term Renovation Strategy (LTRS).

---

Learn more:
Newsroom Ed. Züblin AG / STRABAG AG
https://www.ingenieur.de/fachmedien/hlh/energiebedarf/energieeffizienz-von-gebaeuden-ganzheitlich-betrachtet/
Contact person:
---