From the wastewater pumping station to construction site equipment and cows, everything can be networked, monitored, controlled and evaluated. For this to work, a suitable transmission technology for machines (and animals) is required. It must have long ranges and penetrate well through walls in order to gather data from the last corner. In addition, low power consumption is very important so that you don't have to constantly change the batteries in difficult places. The major mobile phone providers set up the NB-IoT or narrowband IoT network for this purpose – where it makes economic sense for them and associated with transmission costs for each individual sensor or actuator. What would you say if you could determine the network coverage on your (city) area yourself and flexibly expand it, and also save on transmission costs? The LoRaWAN (Long Range Wide Area Network) can offer you exactly these freedoms and much more.
And this is how it works:
In a defined area, multiple gateways (the connection nodes) are installed to reliably cover the entire area

All things to be monitored or controlled receive sensors for measurement or actuators for control

All things to be monitored or controlled receive sensors for measurement or actuators for control

IoT database and software are configured to prepare the right data for the right people, or perform automated actions
The LoRaWAN is characterized by the following features:
Data transfer costs nothing and takes place in the network controlled by you

The LoRaWAN standard is protected against data theft and hacking by several mechanisms

The battery life is very long (many years depending on the application) because the standard is extremely energy-saving

LoRaWAN comes well through walls and has ranges (depending on terrain) of several kilometers

Once you have set up a LoRaWAN in your area, you can quickly, easily and inexpensively add further use cases
Thus, the LoRaWAN is optimally suited for regional or local machine networks. Here are a few examples:
Building site networking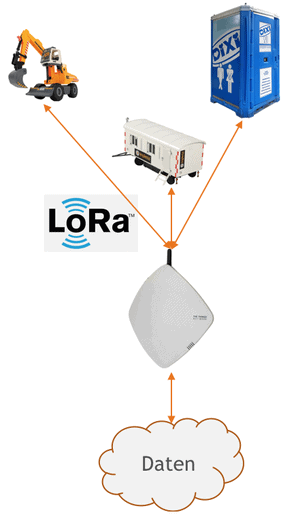 On the construction site work is done at many places simultaneously, materials and tools disappear and devices cannot be found. Sometimes unexpected material problems occur due to temperature fluctuations, or the toilet house is full. All this causes additional costs and dissatisfaction among the employees. But that's over now. A local LoRaWAN makes it very easy to monitor the entire construction site. If a device is now out of place, it can be located by a sensor. Another sensor monitors the temperatures on the construction site and reports critical values. Theft problems are also history thanks to the network. From the site fence to the containers, transmitters with alarm contacts are installed at all gates, doors and windows, which monitor them in real time. You, or the security service, receive an instant message on your smartphone when a door is opened. This leaves little time for burglars. Furthermore, the networking of the construction site contributes to the safety of the employees. If you provide a dead man's alarm to personnel working alone, immediate help can be provided in the event of an accident. And the full toilet house is no longer a problem, because a sensor for level measurement gives the signal for emptying in good time. Thanks to the long-life rechargeable batteries, the sensors can be installed anywhere with little effort. And because sensors can easily be added as required, the network adapts to the requirements from site to site. And when a construction site is completed, the entire network can be taken to the next construction site.
Wastewater system monitoring without entering the sewer
Currently the monitoring of the wastewater system is associated with high costs and time. At each measuring point, a construction site must be closed off, two wastewater experts must go down and determine the data. The construction site is then dismantled again and the data determined is recorded. Thanks to LoRaWAN, this can now be done faster and with considerably less effort. Sensors are installed at the measuring points that measure and automatically transmit water quantity, pressure, flow velocity, temperature, etc. All that remains to be done is to evaluate the data. This saves a great deal of time and money, and road traffic is not hindered either. The LoRaWAN is characterized above all by its high range, because it reliably transmits its data even in deep cellars or shafts.
Cross-linked agriculture or smart farming
<
Smart Town can also be found here.
short and concise – why LoRaWAN is interesting for you
Here once again briefly and concisely the advantages of LoRaWAN for you:
Net coverage can be determined by the user
Mobile and flexible to use
No transfer costs
independent of mobile phone providers
high range and low energy consumption
We would be pleased to determine the application potential of LoRaWAN together with you as an alternative or as a supplement to other transmission technologies. Find out more about ECBM's services here: https://www.ecbm.me
---
A guest contribution by Elisabeth Schloten,
Managing Director of ECBM Connected Business Models.
"Promoting digitization in Germany is my passion. When we talk about Industry 4.0, we are often talking about Cyber Physical Systems. A combination of mechanical-physical machines that can achieve more through software and networking than conventional production systems. Germany is excellently positioned in mechanical-physical systems and has a great history in computer technology. But if we are not careful, we will quickly be overtaken in the next few years. From companies from countries and cultures that do not work with the same perfectionism and thus achieve results more quickly. Together with my team, I would like to help German SMEs and their municipalities to use the technologies of today to solve the problems of tomorrow".